News
Celebrating the Life and Legacy of Dr. Martin Luther King, Jr.
January 16, 2023
Today, January 16, Léman is closed in honor of Dr. Martin Luther King, Jr. Day.
On this day we celebrate the life and legacy of Dr. King, who devoted his life to the pursuit of justice and equality for all. A strong advocate for non-violence during civil unrest, he tasked society with the important work of creating a more equitable, just, and inclusive world for all.
As Dr. King once said, "We must come to see that the end we seek is a society at peace with itself, a society that can live with its conscience."
As a learning community that dedicates its efforts to becoming an antiracist community, we look to his teachings as a guide to how we can enable social justice and activism for historically marginalized communities and advocacy for all.
While this is a day off from school, we hope that all members of the Léman community take on the chance to honor his legacy by reflecting on his teachings and rejoicing in the example he set out for us on the ways that we can take action to end racial and social injustices.
While this day in particular is a time to commemorate Dr. King's impact, Léman students have been learning about his life, the power of his work, and the history of the Civil Rights Movement throughout last week and throughout the year. Read on below to learn more about how students have been reflecting on his teachings in the classroom.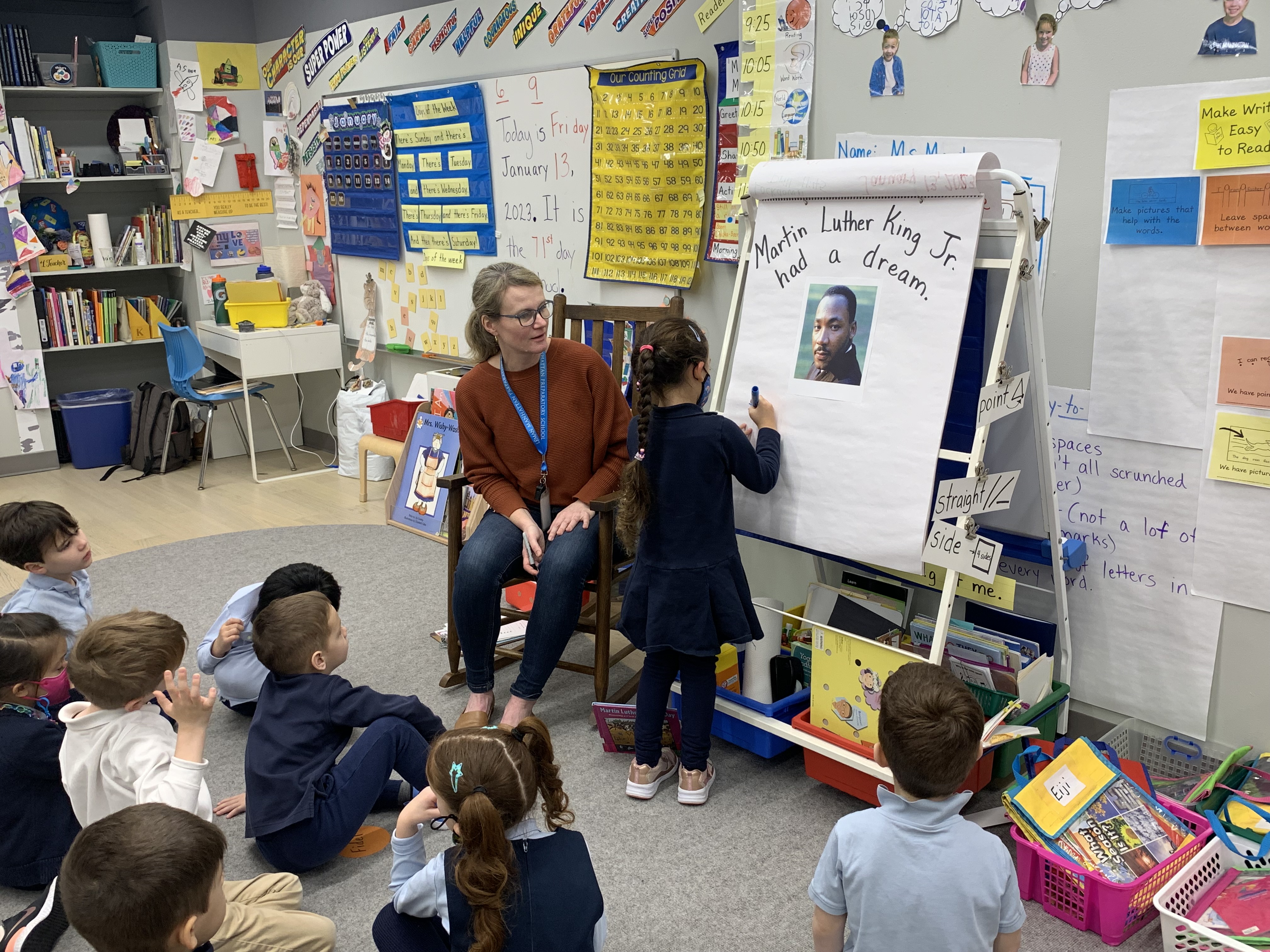 Reading About Dr. King
As a way to introduce Dr. King, the Civil Rights Movement, and concepts of equity and justice to young learners, some students at 41 Broad Street listened to and read several books about the life and legacy of Dr. Martin Luther King, Jr. After each reading, students were then tasked with applying what they learned to different activities.

Kindergarten students, for example, considered different words and phrases that related to Dr. King's life and then used the writing skills they'd learned in class to spell out each one. When asked for words that came to mind, students noted that concepts like kindness, respect, equality, and fairness were central to Dr. King's philosophy, writing them on a large piece of paper to see a visual representation of his life's work. And after learning about Dr. King's "I Have a Dream" speech, Early Childhood students thought about their dreams for a better future, decorating a cloud poster and a paper chain with each message of hope.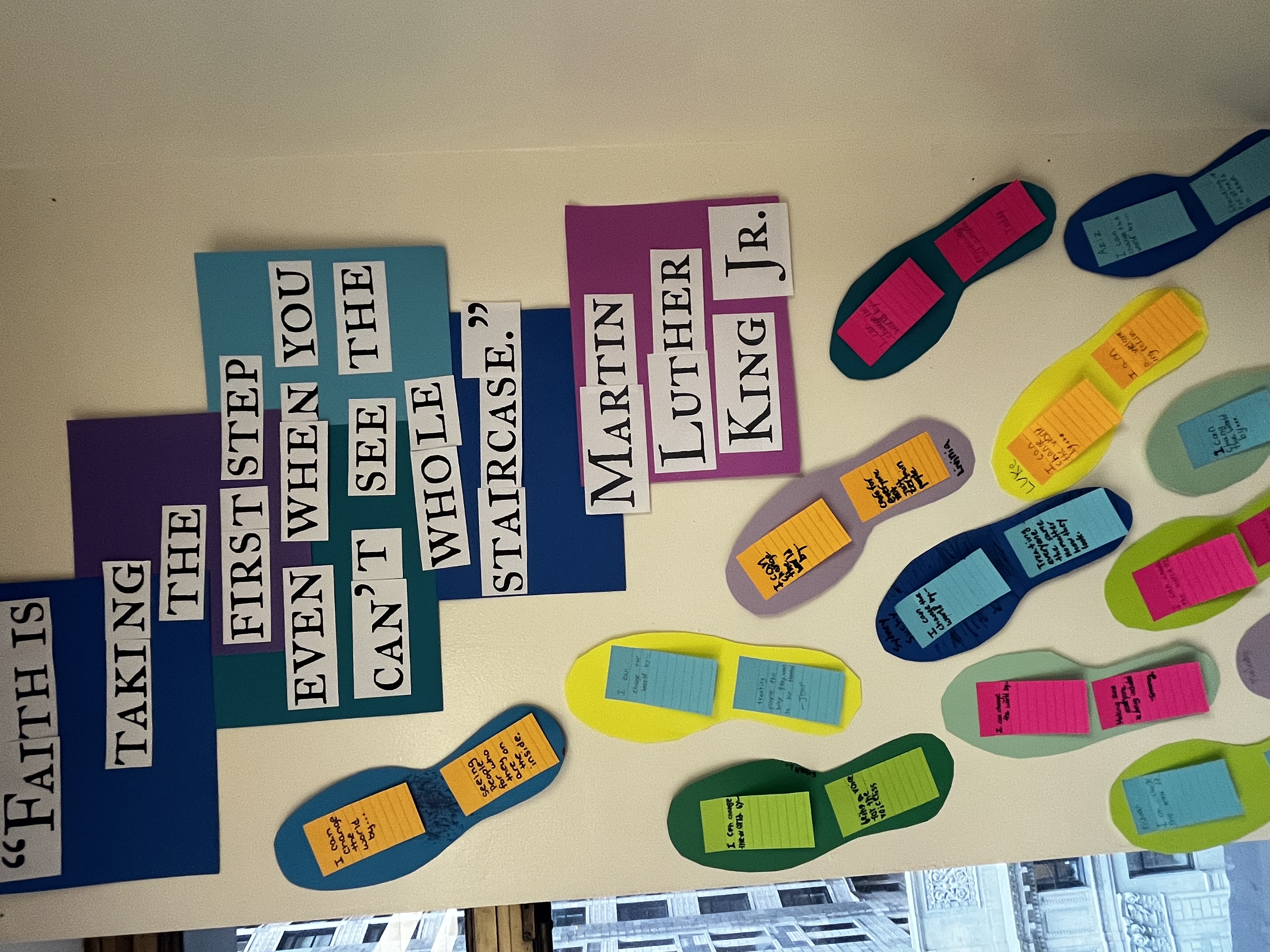 Considering Steps To a Better Tomorrow
Inspired by his quote, "Faith is taking the first step even when you can't see the whole staircase," fourth grade students considered the steps they could take to move us towards a brighter future. After discussing ways that they could make the world a better place, each student wrote their ideas onto a paper outline of a shoe. Each shoe was then put together
As they learned about Dr. King's work and legacy, fourth grade students also meditated on the idea that the world moving forward towards a better future starts with taking one step. Inspired by Dr. King's quote, "Faith is taking the first step even when you can't see the whole staircase," students considered different ways that they themselves could make the world a better place. Each student's idea was written onto the outline of a shoe which, when placed in conjunction with those of their classmates', created a series of "steps" around the classroom illustrating the consistent path forward we as a society must take towards a more just world.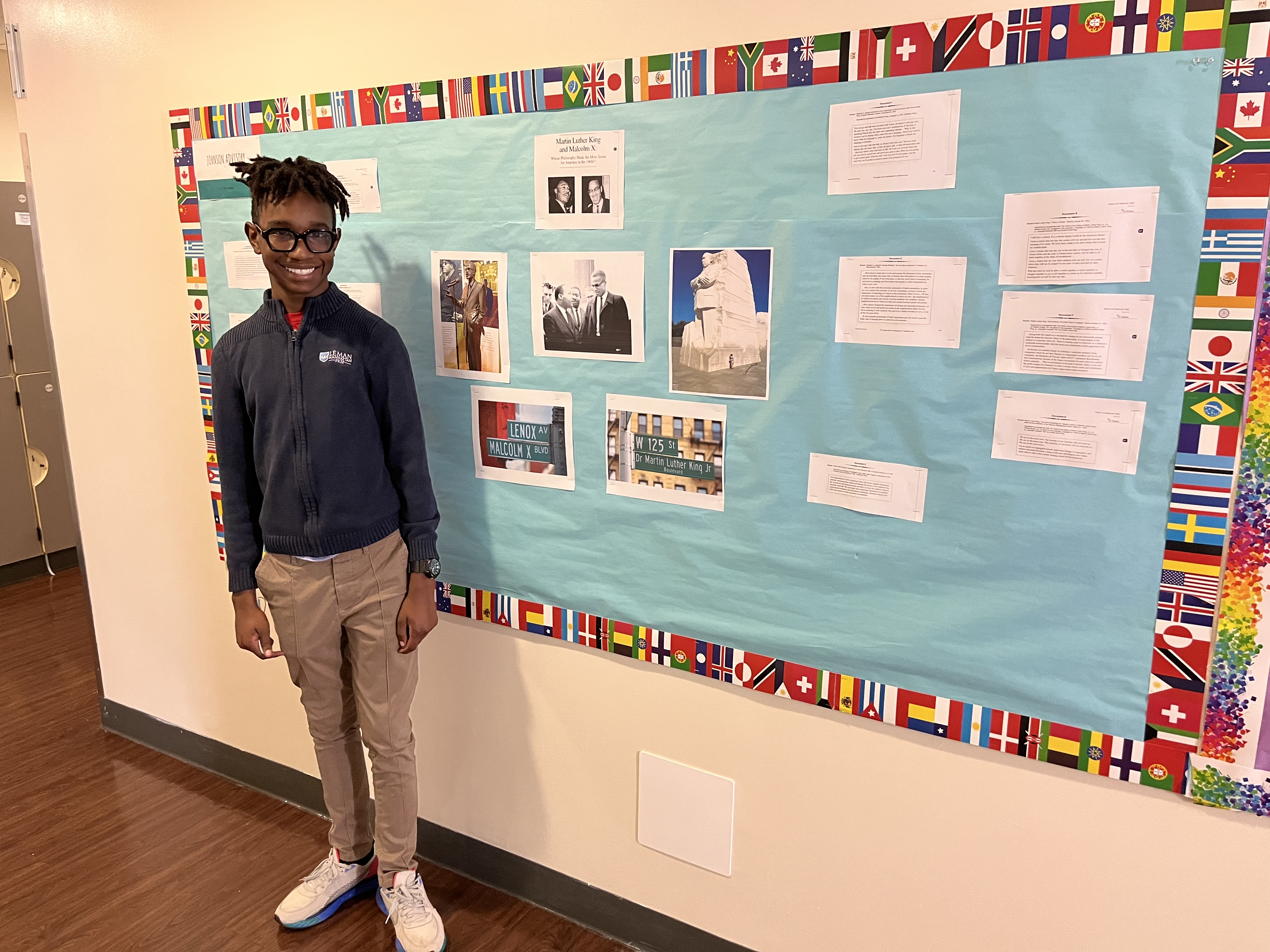 Learning About the History, and The Future, of Civil Rights
From September through November, eighth grade students study civil rights from post-Civil War Reconstruction through the present day. Most recently, students have wrapped up the fall trimester by penning essays comparing and contrasting the work of Dr. King and Malcolm X, taking into consideration their individual approaches to the Civil Rights Movement and overall human progress. While each paper covered different aspects of each of these trailblazer's philosophies and histories, they all inspired students to use their studies to create more equitable environments for their peers and their communities. Below are a few thoughts from student on the assignment and their overall learning about the Civil Rights Movement:
What was the most important message you learned from MLK during the process of writing your essay and learning about his life and work?
"The most important thing I learned from MLK is that society works best when people are together. Integration of schools, government, etc. would bring people together and reach better unanimous decisions that benefit everyone."- Itamar B.


What was the most important message you learned from MLK during the process of writing your essay and learning about his life and work?
"I learned that violence is never the answer. King keeps trying to fight for his rights without using violence and shows that your voice is just as powerful."- Gia A.


Generally, why was it important that we learned about the civil rights movement?


"Because the civil rights movement is a period of time where we lost a lot and gained so much more. People lost their lives and people dedicated their lives to see everyone come together peacefully." -Alex S.