News
Highlights from The Léman Bulls' Winter Season
March 30, 2023
After plenty of hard work, great displays of collaboration, and plenty of school spirit, the fall Athletics season came to a close in October.
Below, see a few highlights of the season from Athletics Director, Keith Sequeira and several of Léman's Middle and High School coaches: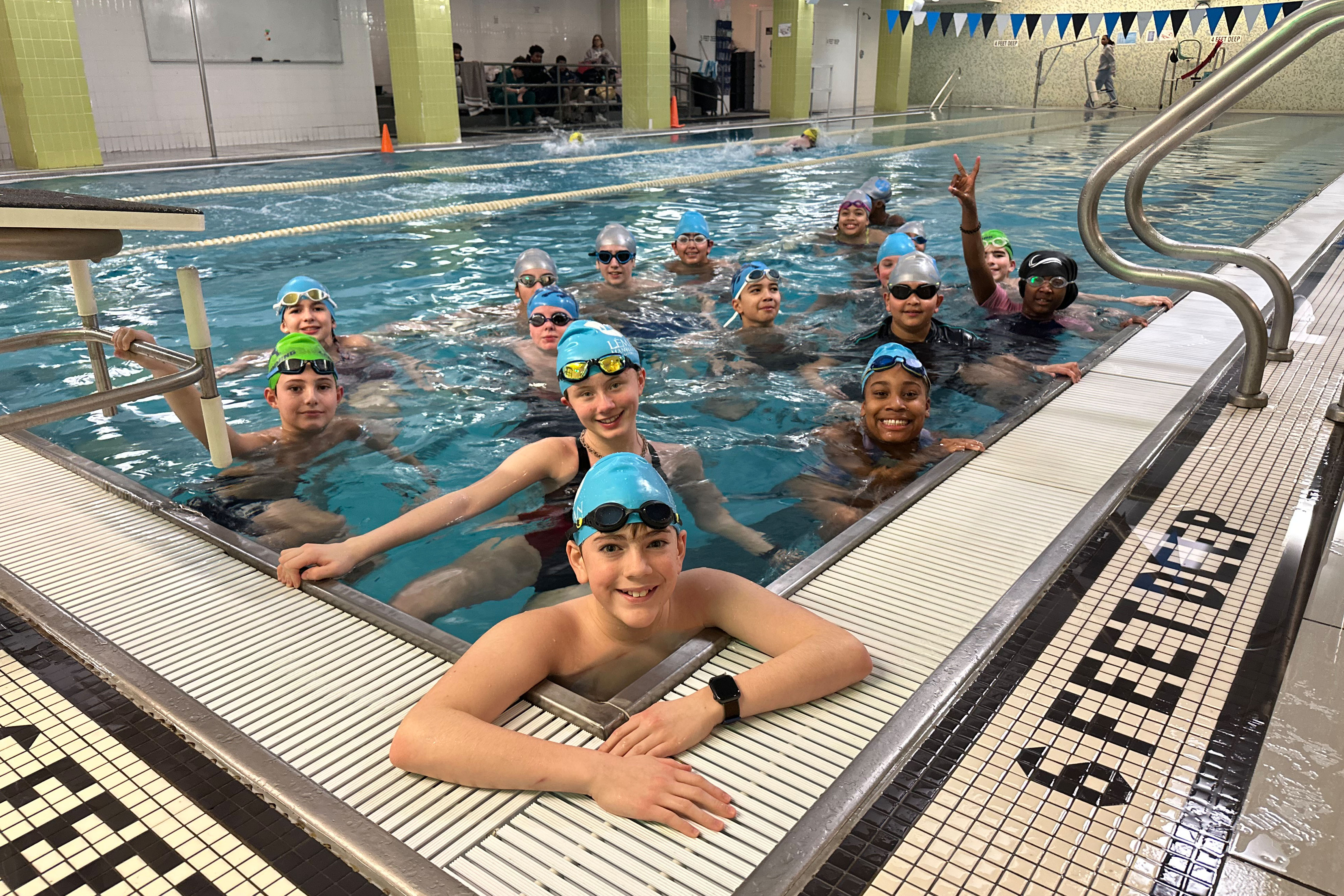 Grades 7/8 Swim
I am pleased to report that the swim team has achieved remarkable success this swim season. Despite a limited number of meets, our swimmers have exhibited exceptional growth in their skills, a testament to their diligent efforts and commitment to practice. Our team members have demonstrated outstanding sportsmanship during meets with other schools and have challenged themselves beyond their comfort zones, resulting in impressive achievements. It is my honor to share that our Grades 7/8 Swim Team shows great promise for a successful future in swimming.
- Coach Mendez
Varsity Swim
Léman's Varsity Swim team competed in two leagues, for the first time, this year: The ISAL Meets (invitational-style) and the ACIS Meets (more traditional dual meet formats). After plenty of hard work, the team came away with a 3rd place finish at ISAL champs (Girls and Combined), as well as a 4th place finish at ISAL Champs for our team of just 5 boys.
Léman Swim Team records were set in the Girls 200 Medley Relay (ISAL Meet #1 - Dec 2022), with freshmen Laila S. and Miyah C., sophomore Didem H., and senior Tatum N. going 2:15.55. Laila also came away with the 100 backstroke record (ISAL Champs - Feb 2023) with a time of 1:12.85.
Championship results for both teams:
ISAL (Girls) - 3rd Place
ISAL (Boys) - 4th Place
ISAL (Combined) - 3rd Place
ACIS (Boys) - 7th Place
ACIS (Girls) - 8th Place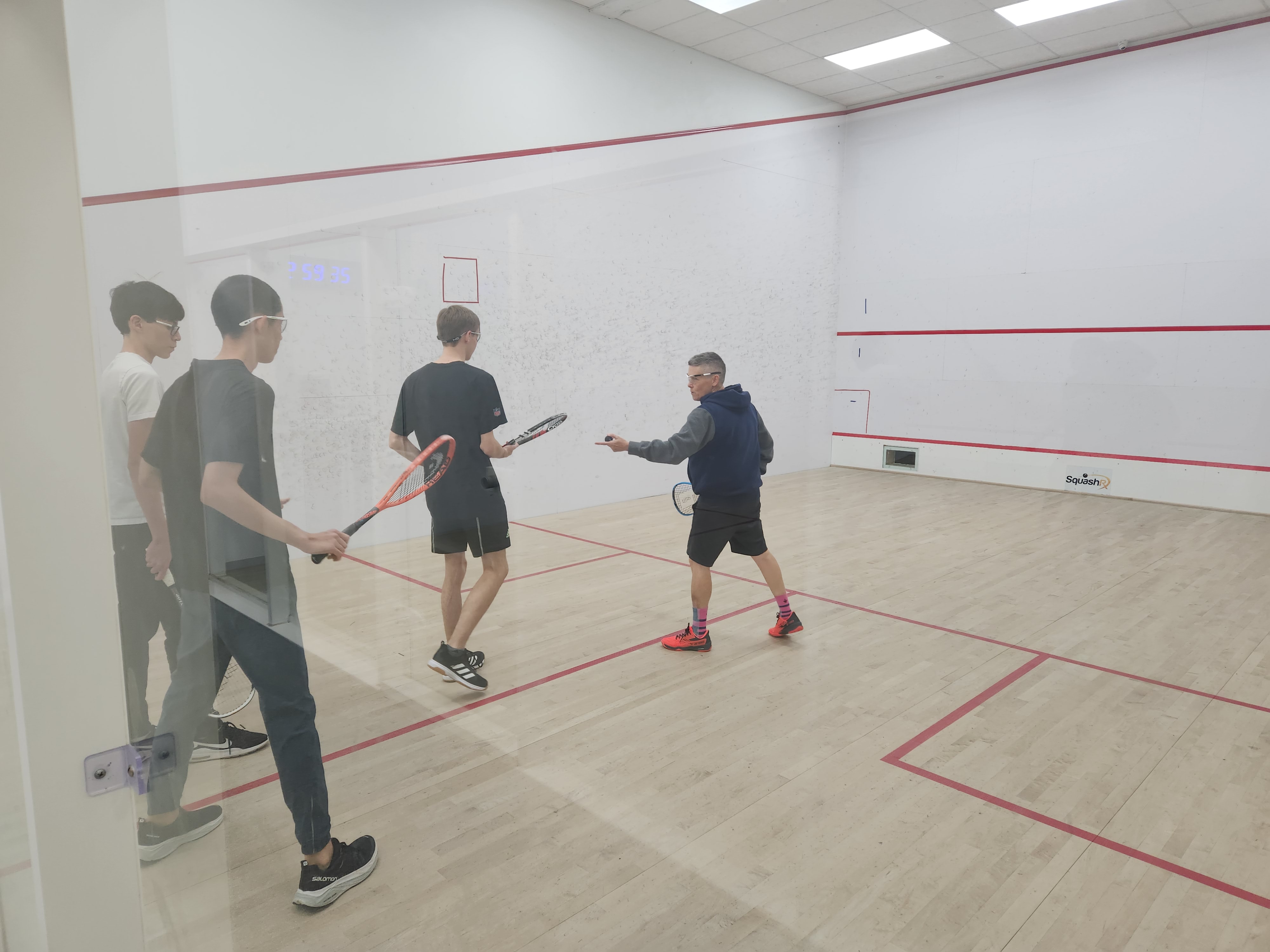 Varsity Squash
The Varsity Squash team successfully participated in a series of instructional clinics which were designed to improve their skills and techniques as squash players. The Squash Team worked extremely hard to improve their footwork, racquet handling, shot selection, and tactics throughout the season. The Squash Team then participated in a series of round robin games where they could put into practice the skills developed in the clinics. This featured a number of close games, including some stand out play from Seniors Max G. and Tyler W.
- Coach Len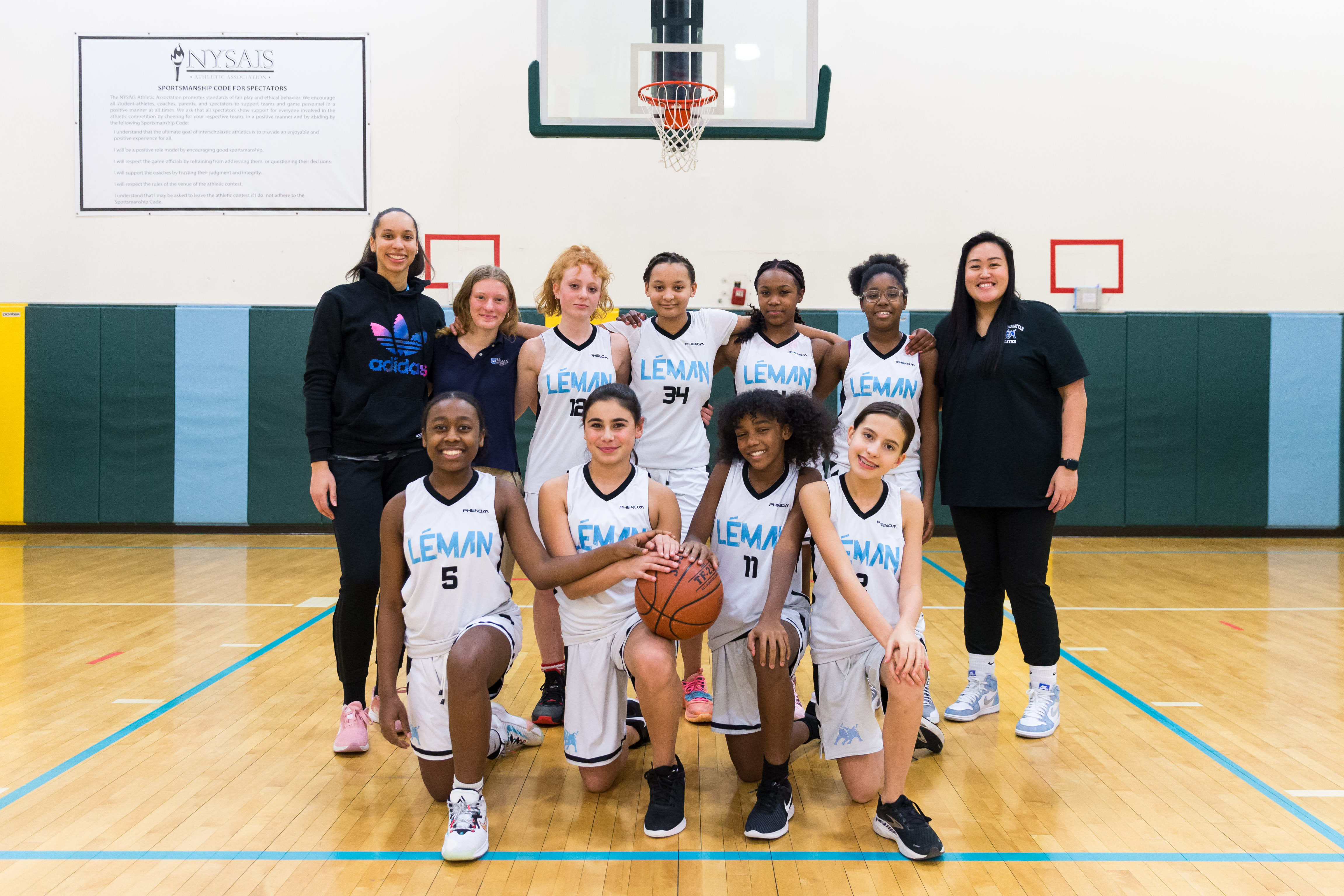 Girls 7/8th Basketball
The Léman Manhattan Preparatory School Grades 7/8 Girls Basketball team, led by Head Coach Alyssa Almario, marked tremendous progress throughout the 22-23 season. With great defensive prowess and developing offensive efforts, the Bulls finished the season 7-5. The eighth graders showed strong leadership and grit throughout the season and the seventh graders showed great determination. The Bulls ended the season finishing in 3rd place in the Grace Church School Basketball Tournament. The whole team has shown a desire and commitment to continue to improve in their basketball skills on and off the court.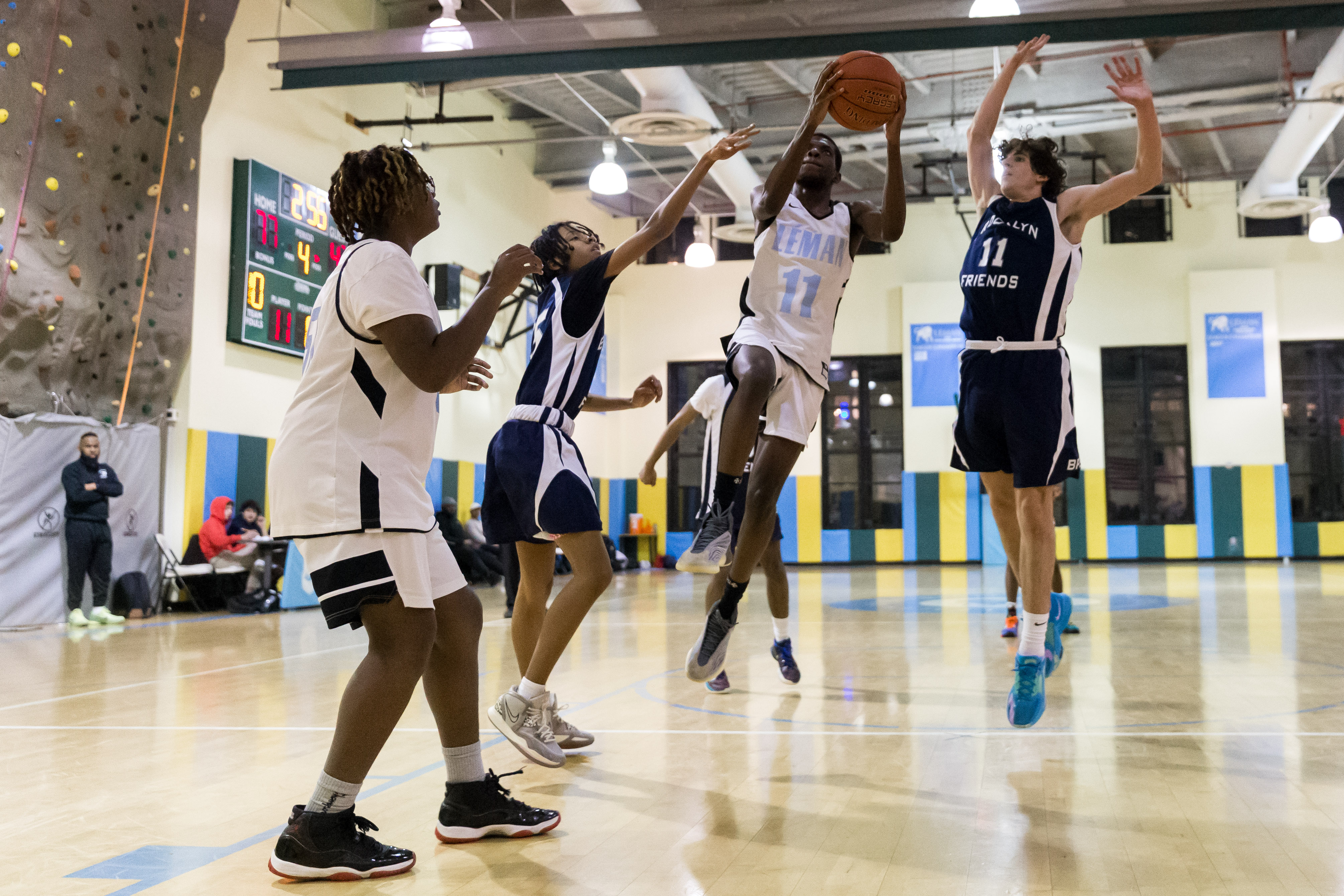 Varsity Boys Basketball
The Léman Varsity Boys Basketball team finished the season with a record of 10-10, going 5-4 at home and 5-6 on the road. We managed to go 6-6 in league play with some tough victories along the way. The team managed to average 59 points a game, which was the third highest earning amongst other ACIS teams. We suffered some tough losses, but managed to capitalize on multiple victories by a margin of 20+ in five games this season.

With seniors Victor O., Mason S., Jonathan T., Noam B., and Malik D. graduating this year, the Boys Team aims to improve and be a fierce competitor in the ACIS next season with its sights set on making the playoffs next year. We're beyond excited for next season as off-season workouts have already begun.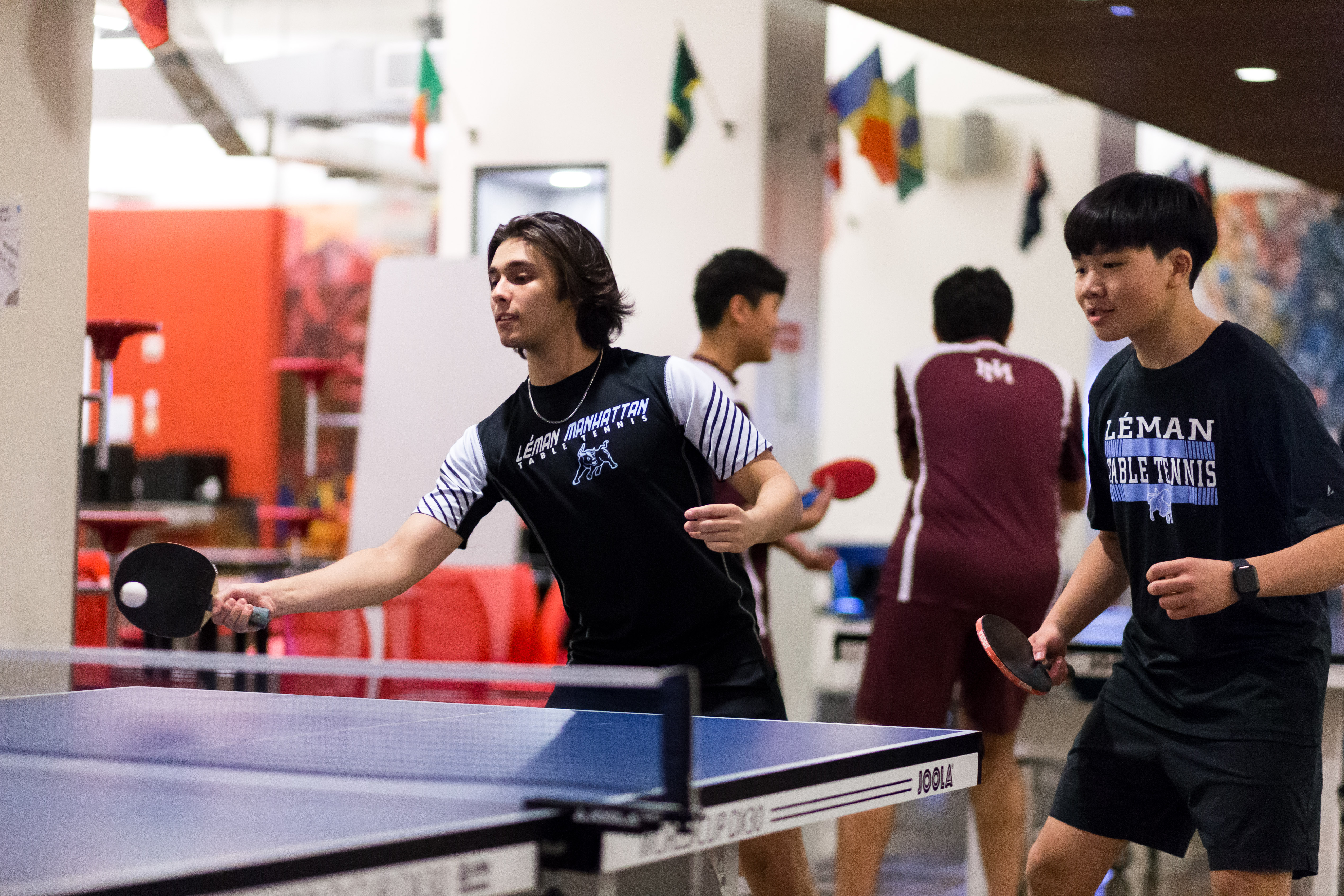 Varsity Table Tennis
It was a pleasure coaching the Léman Manhattan Varsity Table Tennis Team. The players were dedicated and improved a lot throughout the season. I was pleased to see how much the students enjoyed playing and were keen on learning more about the game and the nature of the competition.
The Léman Manhattan Varsity Table Tennis Team started the winter season with three players: Max G. '23, Yilin (Aiden) Y. '25, and Wei W. '26, who played in previous years, and five new players: Freshmen Zongyuan (Charles) W., Keito O., Yehor H., and seniors Tyler W. and Luke F., who didn't play in the previous year's league matches. The main goals we had this season were to improve, learn about the sport, bolster our teamwork, have fun, meet new students, work on discipline by showing up for training sessions and matches, and to learn about the nature of the competition.
The team had only six training sessions before their first league match, which, while providing its hurdles, was a great challenge to help set our athletes up for long-term success. Everyone learned a lot as the team played singles and doubles matches throughout the season, and I'm extremely proud of everyone's technical and tactical improvement.
Léman Manhattan Varsity Table Tennis Team's singles players, Max G., Charles W., and Yilin (Aiden) Y. won a couple of great matches for the team during the season. A huge shout out to Max, who achieved the longest record of wins for Team Léman this season.
- Coach Dora
Go Bulls! We look forward to seeing all that our athletes accomplish throughout the rest of the year. Click here for more information as to where and when you can support the Léman Bulls in the upcoming Spring Season.

Click here to learn more about Léman Athletics.