News
Beyond Léman: Jack Brodsky '13
October 07, 2022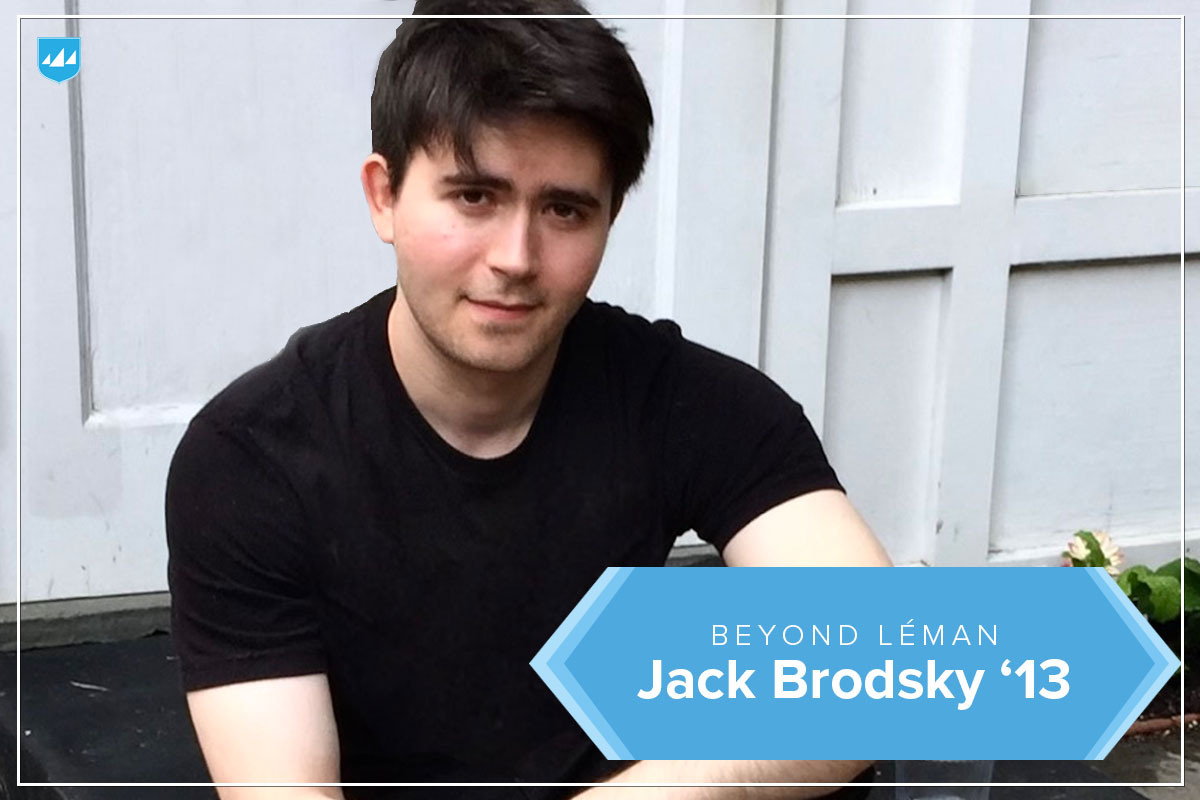 After graduating from NYU, Jack Brodsky '13 went on to pursue a career combining a few of his greatest interests: visual arts, design, and horror films. He now works in promoting one of his family's businesses, Monsterpalooza, a horror movie and special effects convention that attracts over 20,000 film buffs each year. We sat down with Jack to discuss his path Beyond Léman, how the school's Visual Arts program informs the work he does today, and the advice he has for students interested in pursuing a career in entertainment.

Tell us about your journey after Léman
After Léman, I studied at Parsons School of Design for about two years focusing on art. After some time at art school, I realized I wanted to learn more about business, and transferred to NYU where I finished with a business major. Throughout college (and even during my time at Léman) I'd been working with my father on one of our family businesses: Monsterpalooza. Monsterpalooza is a convention that takes place twice a year in California that focuses on horror films, makeup FX, and film-related art – which is what I am still doing today!


Tell us more about Monsterpalooza's history
Monsterpalooza was started by my dad in 2008 (the first year I came to Léman). My dad was always interested in movie monsters since he was a kid, and once he got older and internet message boards became a thing, he reconnected with his old childhood passion. After meeting like-minded people online, my dad decided to have a small gathering (a mini convention) in New Jersey where his friends from the industry could come together and show/sell their work to fans of the horror genre. That small gathering then transformed into the first official convention in California in 2009, and it's grown ever since.
It's now an event that sees over 20,000 attendees with prominent attendees like directors Guillermo del Toro ("The Shape of Water"), JJ Abrams ("Lost", "Star Wars"), and Jon Favreau ("Ironman", "The Mandalorian"). It was even featured as part of a Jeopardy question this year!
Did the Visual Arts Program at Léman inform the work you do today? If so, how?
I feel that the Visual Arts Program at Léman was a great start to a lot of what I do today for work. A huge portion of what I do for Monsterpalooza is advertisement and promotion, which requires a lot of understanding of visual arrangements and what looks good to the eye.
Being able to hone my artistic abilities throughout high school and experiment with different projects was vital for me in learning about how to make things that are appealing not only to myself, but for others, too. This helped me go into college with an open mind about learning and wanting to explore further techniques of how to make art…as every promotional piece I make I view as a little piece of art.
College is where I learned more about graphic design, and was able to start using programs like Adobe Creative Suite and Photoshop, which are applications I use all the time now to make all of my Monsterpalooza advertisements to attract fans to the shows.
What would you say to students interested in pursuing a career in the arts or entertainment?
For students who are interested in pursuing a career in the arts or entertainment, I'd suggest trying to get an internship as soon as possible to see how you like the field and environment in a professional setting. I'm a big film guy, and one thing I loved about my time at Léman was that the Léman faculty allowed me to build on my passion for entertainment by allowing me to have an internship during my senior year. I was an intern at Gigantic! Productions, a production company that created Reality TV content for MTV like the show "True Life", in addition to [various] documentaries. I remember loving being able to have this opportunity as it made me feel like I was being given an "adult" opportunity, where I could learn more about a passion of mine alongside professionals and like-minded people.
Having an internship put me in a place where I was able to experience something in the "real world" outside of the classroom, and was a wonderful, eye-opening experience that I'd strongly recommend students experience. Working can help solidify whether that field is something you are truly interested in and see yourself pursuing. It also allows you to meet like-minded professionals, who might just even become your friends! I remember some of my co-workers from my internship even came to my graduation party!
Besides trying to get an internship (or a job) in the industry you like most, I'd just suggest trying your best to make sure you are doing something you enjoy. If you end up not liking it, don't do it.
Finally, what's your favorite memory from your time at Léman?
A favorite memory I have from my time at Léman…that's difficult because I have so many.
Most of my fondest memories are probably just being able to see my friends every day. Joking around with everyone in the hallways outside lockers, laughing in class…One thing about getting older is you just don't get to have that consistency as much with being with your friends all at once, so definitely cherish the time you have with everyone.
Even sitting around at the lunch room table five days a week is a great memory of mine… Popping into teachers' offices randomly to have a conversation was a lot of fun, too. I loved so many of my Léman teachers!