News
Senior Spotlight: Nia Lwanga '22 University of Southern California
May 20, 2022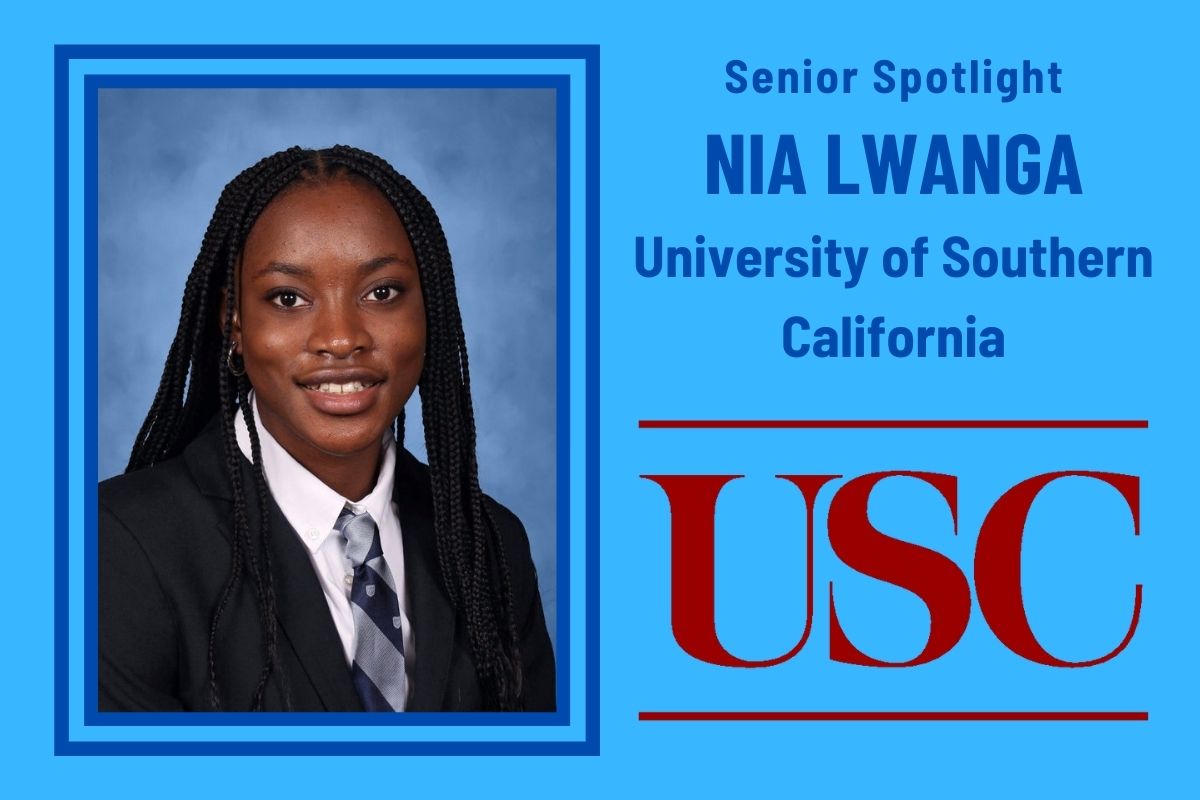 When senior Nia Lwanga enrolled at Léman in 9th grade, she had a very different idea of what her high school experience would be like. "At first, I was really into the sciences, and I thought that was what I wanted to focus on but Léman's creative writing class introduced me to screenwriting, and that's how I got interested in film," she said, "I'm also really interested in sociology and how society and the media affect our perspective on ourselves." Nia will continue to pursue those passions at University of Southern California next year where she plans to double major in film and television production and sociology.
In addition to being named an African American Scholar as part of the College Board's National Recognition Programs, a winner of the Dorothy Height Leadership Award from the National Council of Negro Women, and a Scholastic Arts & Writing Gold Key Award for poetry, she has also been a member of the Varsity Girls Track Team, the Arts and Entertainment Editor for the Bullhorn student newspaper, a member of the International Club, the Intercultural Club, the Black Student Union and the Creative Writing Club, and the historian for the National Honor Society. Nia also finds time to volunteer as a dance teacher at her local community center.
She is also a full IB Diploma candidate. "I think there's a balance to the IB. I enjoyed my English classes because I love writing poetry and some of the novels we've read have become my favorites. Some other classes, like IB Math, have been really challenging. I think the main thing that the IB has taught me is time management. It was very helpful for my college applications to film school because I had to make several short films, she said. "Also, I think the IB has helped me become a better writer and researcher, especially with the extended essay which helped me learn how to cite sources," she said, "Also if I get a high enough score, I'll be able to earn college credits which will make a big difference since I want to double major."
In addition to feeling prepared for the academic side of college, Nia is also ready for new experiences. "I'm excited to build a new network of people and to get into film on a deeper level. At USC I'll have the opportunity to take classes where I'll be learning about the origin of race and reading authors like James Baldwin, who is one of my favorite authors," she said. "But I'll also miss Léman. I love my friends and my teachers here. My teachers and college counselor were so supportive, especially through the college application process. They were always there for me, anytime I reached out."
When asked what advice she'd give to an incoming high school student at Léman, she said, "don't be afraid to explore their interests. I still can't believe it now but I wasn't going to take film because I had no prior experience but I'm so glad I did. You have to have balance. I think the reason why I've been able to enjoy high school is that I have a good work ethic and I'm disciplined but I also make sure that I have fun. Don't rob yourself of that because that's a big part of high school as well."
Congratulations, Nia! We know you'll be successful at USC and beyond!