News
Senior Spotlight: Layla K. '23
February 10, 2023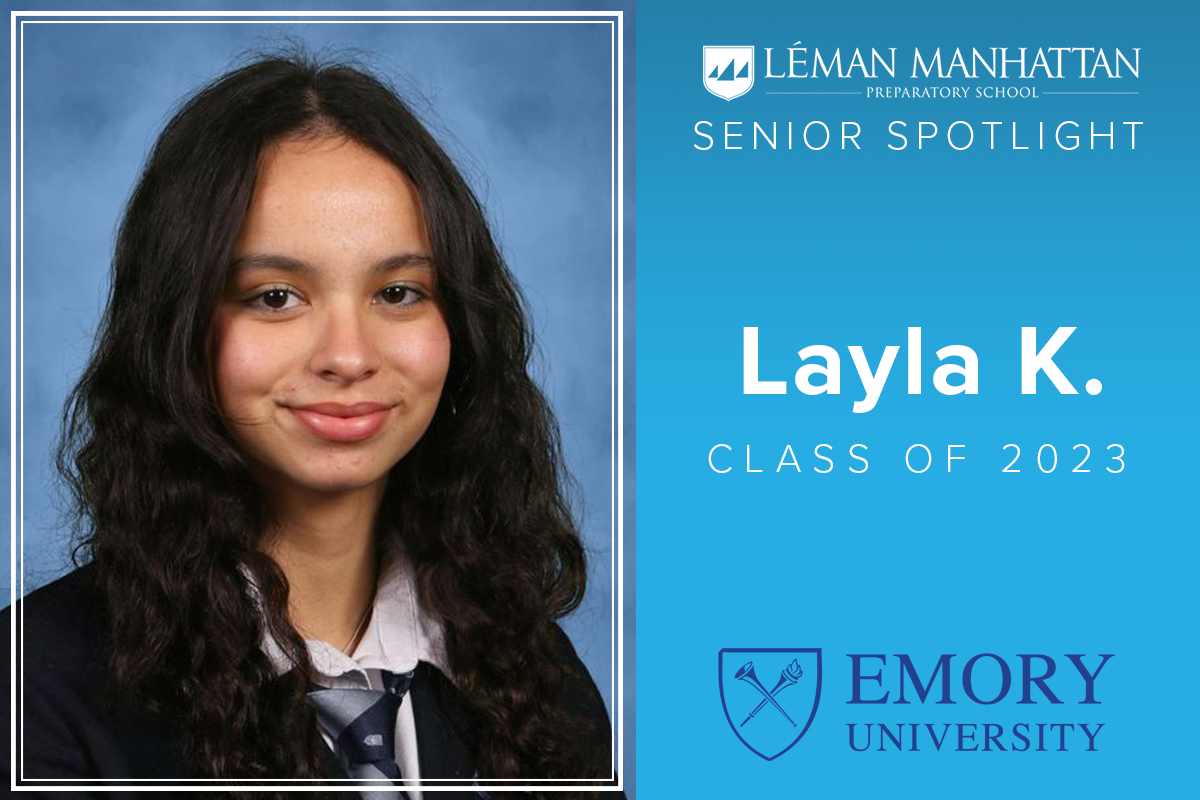 Congratulations to Layla K. '23, who will be enrolling at Emory University in the fall! We sat down with Layla to talk about her experience as a Léman Lifer (a student who has attended Léman from PreK through Grade 12), the advice she has for students about to embark on their own college application process, and what she's most looking forward to about this next chapter in her life.
When did you start attending Léman?
I started attending Léman in Pre-K.
What would you say is the biggest lesson your Léman experience taught you?
The biggest lesson I will take with me from my time at Léman is the importance of adaptability and balance. Learning how to balance sports, academics, extracurriculars, my social life, and alone time has become so important to me throughout my time at Léman. I have learned how to adapt and be flexible with my schedule, which has helped me maintain this balance.
What extracurriculars have you been involved with and what do you enjoy most about them?
I swam competitively on a club team, AGUA, for 7 years, from 5th to 11th grade, where I swam 4-5 times a week. Swimming taught me so much about discipline and responsibility. I also joined the Léman Varsity team in 8th grade. On both teams, I loved building relationships and connections with my teammates and having an outlet in the pool.
In 10th grade, I started lifeguarding and swim coaching. In the summer, I work as a swim instructor at Camp Léman, which I love because I love being able to help students with their confidence and swimming ability. I also love helping students with studying and have tutored Middle and High School students in Math, French, and Biology throughout 10th and 11th grade.
In 11th grade, I started the Volunteer Club, with my co-president, Marissa P. '23 and my advisor, Ms. Jackson. We organize and participate in youth volunteer opportunities both at Léman's Lower School and local organizations. We have over 70 members.
I also am very passionate about the environment and animals, and have consistently volunteered at multiple animal shelters and with environmental organizations. I've also completed several environmental programs throughout high school.
Finally, I'm a student ambassador, a Duke of Edinburgh Award recipient, and the secretary of the National Honor Society.
Are you a current IB candidate? What did you take away from your experience as an IB candidate?
Yes, I am a current IB candidate. I am taking High Level (HL) Biology, Standard Level (SL) Chemistry, and SL Environmental Systems and Societies (ESS).
I chose HL Bio and SL ESS as I have always been really passionate about biology, and started to become interested in environmental studies during the pandemic. I also knew I wanted to major in biology and potentially minor in environmental science in college, so picking these courses really helped me explore my passions and interests.
At first, I was hesitant about choosing chemistry, because I never enjoyed learning it previously. But I am so glad I decided to take it, because now I feel a lot more equipped for college, especially on the pre-med track.
Taking three sciences has taught me how to allocate enough time to my assignments, balance studying, and stay organized. I have also learned a lot about myself and my passions.
Congratulations on your acceptance to Emory! What drew you to that university and what do you hope to study?
I was drawn to Emory's amazing research opportunities, pre-med advising, collaborative community, and beautiful campus. When I visited Emory, I felt like it was the perfect fit for me academically and socially. I hope to major in biology and potentially minor in environmental science, on the pre-med track.
The college application process is often a very busy time! Can you tell us a bit about your experience with applying to college, and working with the College Office?
In 11th grade, I focused a lot on studying for the SATs and my grades, as well as staying active with my extracurriculars. Throughout the summer, I spent more time on my SATs and working/volunteering. I took the SAT four times until I was happy with my score, so that was definitely a really stressful, but rewarding, process.
The first trimester of 12th grade was pretty stressful as well, but everything is achievable with good time management. I focused mostly on my college essay, which I started late because I wrote about an experience I had in Sri Lanka during the past summer, supplements, and finalizing my college list.
Ms. Ongna (Léman College Counselor) helped me throughout the whole process, from helping me choose my IB classes to editing my essays. Ms. O encouraged me to apply Early Decision to Emory, and always supported me, which I am so grateful for.
What advice do you have for younger Léman students, especially those about to embark on their own college application process?
The advice I would give to younger Léman students is to set and follow deadlines, because you'll thank yourself in the future. The IB program and college process can be a really overwhelming experience, but with planning and holding yourself accountable for deadlines, the process becomes so much easier.
Also, never be afraid to reach out to your teachers and your college counselors, because getting advice or support always helps as well.
Starting college is always an exciting time in any person's life. What are you most looking forward to?
I am excited to meet new people, learn more about myself, and further explore biology and the medical field. Growing up in Léman's close-knit and comfortable community, college will definitely be intimidating at first, but I am beyond excited to start this new chapter.
What will you miss most about Léman?
I will definitely miss the Léman community as the school has been a huge part of my life since I was little. I have so many memories in both Léman buildings, and will especially miss the teachers and students I built really strong connections with throughout high school.
Congratulations again, Layla! We can't wait to see what you accomplish at Emory and beyond!