News
Beyond Léman: Mikayla Barnett '13
September 23, 2022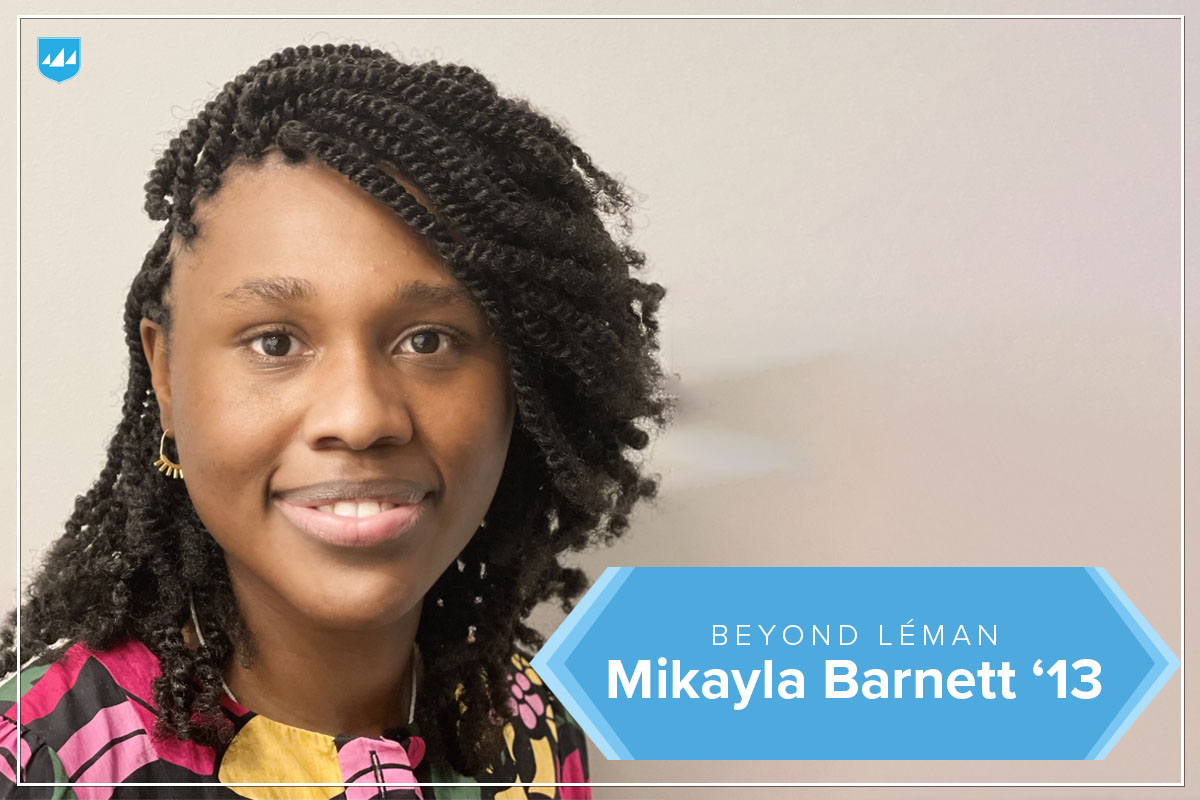 Whether she's focused on uplifting women and girls within her community through her nonprofit It's a She Thing, or supporting client growth at Goldman Sachs, Mikayla Barnett '13 has dedicated herself to making a positive impact wherever she goes. We sat down with Mikayla to discuss her life after Léman, her path to forming a nonprofit organization, and the importance of staying curious.
Tell us about your journey after Léman.
After graduating from Léman [in 2013], I headed to the University of Pennsylvania where I earned my B.S. in Economics with concentrations in Entrepreneurship & Innovation and Marketing from the Wharton School. Following college, I worked in digital marketing at American Express within their Consumer Business and Meta on their Global Marketing Solutions team. Currently, I work at Goldman Sachs as a Product Manager in the Consumer and Wealth Management division.


Tell us more about It's a She Thing and what inspired you to found it.
It's a She Thing, Inc. is a 501(c)(3) nonprofit organization dedicated to providing support and services to women and girls experiencing trauma-inducing events in their lives. It's a She Thing initially started in 2012 as a small, social event dedicated to providing a safe space for women and girls, as we found that many members of our community were in need of time-sensitive support and belonging following traumatic experiences they've faced (e.g., domestic violence, childhood abuse, food insecurity). Following our incorporation in 2019 and the onset of the pandemic, we expanded It's a She Thing to provide our community with housing assistance, monthly grocery support, a yearly empowerment camp for girls, and much more.


How did Léman prepare you for life after graduation, from your corporate career to starting a non-profit?
From classes to extracurriculars, my time at Léman provided me with a great sense of educational curiosity and a yearning to truly understand how "things" work and why. This was an extremely useful trait when I started my corporate career, as my curiosity and willingness to seek opportunities for growth and impact led me to work on fairly complex, public-facing projects and initiatives. This has also helped during my journey as a social impact entrepreneur, as the dedication to continually being a learner has led us to grow It's a She Thing based on the needs of our community and developments in the nonprofit space. It's amazing to see how many doors have opened due to the growth and leadership opportunities Léman provided me when I attended.


What would you say to students interested in starting their own organization?
I'd recommend students stay curious and hungry for change. As a social impact entrepreneur, there are many ways to make an impact in your community. However, these opportunities aren't always easy to identify and become involved with. By continually asking questions and connecting with your community, you'll quickly grasp potential opportunities for change and can then work to identify how you can make a positive impact.


Finally, what's your favorite memory from your time at Léman?
My favorite memory at Léman was the morning of graduation when the class of 2013 walked down Wall Street to take our last class photo in our caps and gowns. While we were a small group, it felt incredible to be a part of Léman's history as the first graduating class of the school!