News
Senior Spotlight: Aru Shabdarbayeva '22, Boston University
May 05, 2022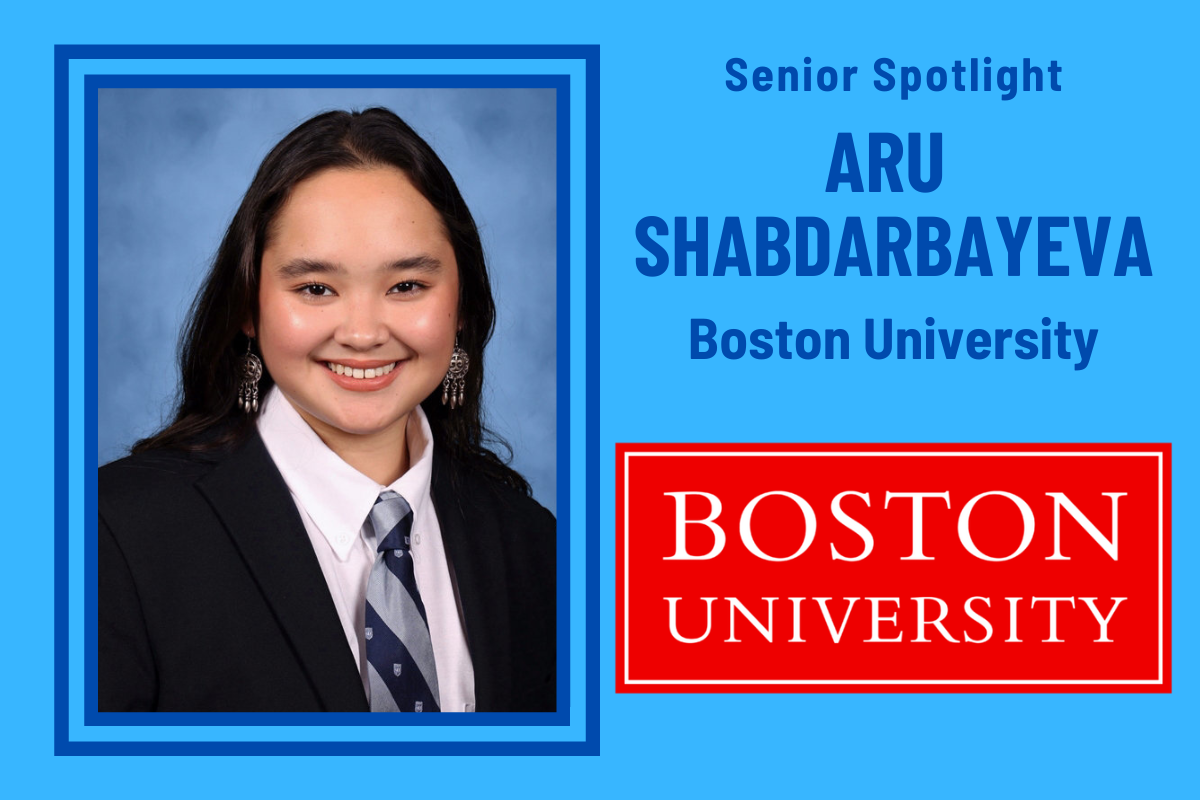 When senior Aru Shabdarbayeva was looking for a boarding school, she had a picture of what she wanted her high school experience to be. "A lot of kids from Kazakhstan go to UK schools but I knew I would like to go somewhere completely different and where I could be more independent. I also really enjoy the New York mentality and culture, so I was excited to be at a school in New York. Some of my siblings were supposed to come with me to Léman but, once Covid hit during my first year here, they transferred to schools closer to home, but I love Léman, so I decided to stay and graduate," she said.
She is glad she stayed because she has made the most of her high school experience while she's been here. As an avid art student, the co-founder of the Mental Health Club, a member of the Boarding Student Government, the Varsity Volleyball team, and the National Honor Society, as well as a full IB Diploma Candidate, Aru is setting herself up for success in college. "I cannot say the IB is easy, but, looking back, I enjoyed my experience. Because of the structure of the IB, you have to take some courses in subjects that I wouldn't have necessarily chosen for myself but once you get to senior year, you start to see the benefits of all of those subjects coming together and I think that was really helpful," she said.
All that hard work prepared Aru for admission to Boston University, where she plans to focus on social sciences. "When I was first applying to schools, I didn't really know what I wanted. I considered taking a gap year, going abroad, or even applying to schools in a different country, but when I got into BU, it really felt like the right fit. I'm going to start in January with general studies, and then go for a summer trimester in London and then come back and really focus on my major in my sophomore year, which feels like a good plan for me."
Even though she's excited about college, there are things Aru will miss about Léman. "I'm definitely going to miss the community here, especially the boarding community, and how it feels to be in this building, looking at the views from the art rooms on the 22nd floor," she said, "Léman is a unique place because very few people are really 'locals.' Even a lot of the day students have families who are from other countries, or they are second-generation Americans. There is a mix of so many backgrounds, nationalities, and religions, and the school really celebrates that."
When asked what advice she would give to an incoming high school student at Léman, she said, "Sign up and try as many things as you can. A lot of people think that there's an expectation to be good at something right off the bat, but that's not true here. It's not a toxic competitive environment. I would never have signed up for volleyball because I didn't think I would be any good at it but, I signed up my senior year and I learned throughout the season. That's also how you will get to know people and make good friends, even with older students, which is one of the great things about Léman. Everyone gets along."
Congratulations, Aru! We know you'll be successful at Boston University and beyond!