News
Faculty Profile, Katya Buslo Léman Explorers Head Teacher
November 17, 2021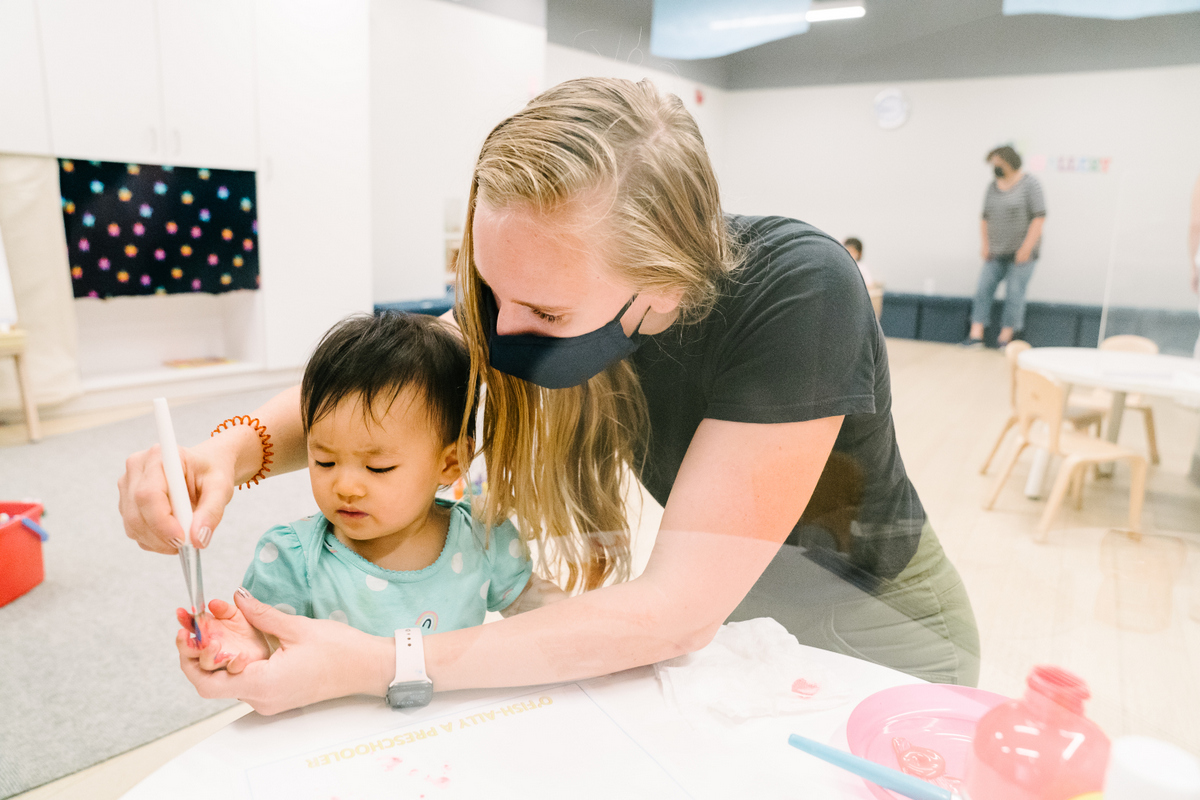 Tell us about your path to Léman.
I moved to the United States when I was 16. I got my bachelor's degree in education at Eugene Lang College and my master's degree from Long Island University.
I started my teaching career at the Children's Museum of the Arts. I was teaching stop-motion mostly and then transitioned into teaching stop-motion and art activities. The first couple of years I worked at the museum, but then I started doing their outreach programs where we would go into schools including Grace Church and Alt School where I worked with the students for a month, or a semester, or a year. During that time, I realized that I did want to teach in a school full time. I started as a PreK teacher at Léman and then moved into the Léman Explorers classroom.
What do you bring from your experience as a museum educator into the classroom?
Hands-on activities are really important in early childhood education. At the museum, I designed activities for children of different ages. I adjust a lot of those lessons for young children in our classroom. I think it's important to display children's artwork in the classroom. They gain a sense of accomplishment when they see it and they continue to learn from it after the project is over as we discuss things like shapes and colors.
We recently expanded Explorers to start at 12 months old. Why do you think it's important for young children to have a classroom experience?
I think most important is learning how to socialize with their peers. Most of the time they engage in parallel play, sitting next to each other, but in the classroom, we encourage them to pass the toy they're playing with to their friend or play together. It helps them to have the strategies once they are in preschool to build meaningful friendships and collaborate as a group.
I think it's especially important for kids who were born in the last couple of years because we have some of the kids who have no prior experience in a classroom because of COVID. This might be their first experience being around other children or teachers.
What do you like about teaching young children?
There are so many accomplishments that they achieve at this age, which seem like simple things to us, but they are so fulfilling to experience as a teacher. For example, we start our day with a good morning song, going around and asking each child to say their name. At the beginning of the year, many of them can't say their name or they are too shy to say it in front of a group, so their caregiver says it for them. Over the past few weeks, three kids said their names for the first time. All the adults started smiling and clapping because it was such a big, exciting milestone for them.
What other milestones do you see children reach from the beginning to the end of the year?
Throughout the year, we try to accomplish a few things. The main thing is language. Some kids may be saying one word at a time at the beginning of the year but then building on that with two and three-word sentences. Another thing we practice every morning is jumping. At two years old, that's a big milestone which they reach sometime during the year if they can't do it at the beginning. We focus a lot on playing together, which a lot of them aren't doing but we are always encouraging it. Towards the end of the school year, they are starting to play together and share, which is an important skill for PreK 2.
What do you think makes the Early Childhood Center at Léman unique?
The fact that we're an ongoing school means we can follow the same routines that the older kids are following in PreK 2, 3, or 4. That way, when they enter those grades and they don't have the same support from their caregivers, they are already used to that schedule and routine.
I think our biggest strength is our teachers. We are our students' biggest cheerleaders. We try to encourage them and expose them to activities that they haven't experienced before. We try to make sure to foster a love of school so they can keep exploring and learning.