News
Faculty Profile: Carol Liu, Early Childhood and Lower School Music Teacher
November 04, 2021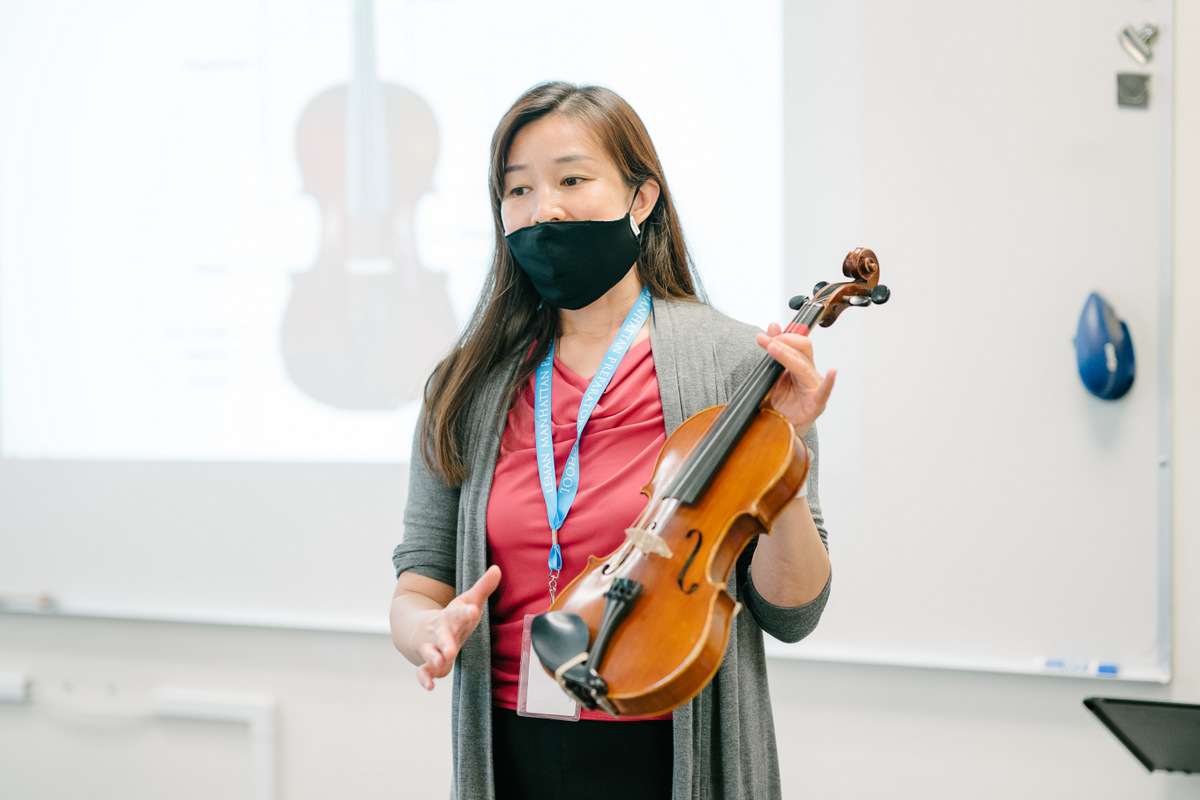 Tell us about your journey to Léman.
I was born in Taiwan, but I grew up in California. I went to San Francisco Conservatory of Music where I got my bachelor's degree in Piano Performance and Composition. I then moved to New York to get my master's in music education from NYU.
I started my own music school in California which is still running in Cupertino, California, and then went on to teach music at a variety of schools in California. Over the past eight years, my family lived in Shanghai, China. To be close to family, we moved to New York, where my husband is from, this summer. When we moved back, I was looking for a teaching position and came across this one at Léman, which seemed like a great fit. I play the piano, violin, flute, and cello and I've been a general music teacher as well as leading string ensembles, so with Léman's Lower School signature program being the violin program, it felt like the perfect fit for me.
You taught in China for eight years. What do you bring from that experience into the classroom here?
I always taught in international schools, so the sensibility was similar, however, the biggest difference was the fact that they don't have the same resources for children with special needs. I would have all kinds of students in my class who didn't necessarily have any support. It was a real challenge, but it also made me a better teacher because I had to plan in a way that all students were included. One thing that I think is very important in lesson planning is that you always have to be prepared to switch gears if something comes up. Your students have different needs and sometimes a class is acting differently than the one before. I think it's important to always meet students where they are.
Part of my teaching philosophy is that no child should be left out. Some children struggle with one instrument or don't feel connected to it, so I offer another instrument or another way of learning so they don't feel excluded or lost. I believe that everybody can enjoy music even if they don't think they are musical. Everybody listens to music and moves their body to it, which is all about rhythm. It's not just about instruments but also listening and writing, which a child might understand better. In addition to the violin in first grade, I introduced them to handbells, second graders are playing percussion instruments, and third graders are learning bucket drums. That's one thing that's amazing about Léman is that we have all these resources and instruments at our disposal that the kids can learn.
Why do you think music education is important at a young age?
I believe that when children are exposed to music when they are young it builds a lifelong appreciation. Starting at age two, they can recognize music symbols just as they started to recognize letters or numbers. Singing, movement, rhythm tapping, and tonal pitch-matching all help set the foundation for playing music at an older age. I'm teaching PreK 3 right now and I see that they are excited to come to music class and have fun. They can move their bodies through music and singing helps develop their language skills. A lot of children don't have those resources at such a young age, so I think the kids at Léman are lucky to have this exposure.
I've taught students from age two through high school and I can tell the difference between a student who studied music at an early age versus one who didn't. When a child has that foundation, it becomes routine, and they are better prepared when they want to start private lessons. The biggest challenge for a lot of students is practicing. It must be a part of their daily schedule, just like taking a shower or brushing your teeth. It's not an option, you just have to do it if you want to improve.
The Signature Violin Program is an integral part of Léman's curriculum. Why do you think the violin is a good first instrument for young children?
I think the biggest advantage of the violin is that children learn to play together as a group. The violinists are a team, so if everybody needs to participate and follow along. No one is left out or left behind. In class, everybody takes a turn, and if someone struggles, everyone helps. One of the biggest advantages is learning to play together which includes listening to harmonies and playing your part. Playing in a group also helps to motivate children to learn and have fun because they're doing it with their friends. It also teaches you to listen to other people. It's not about playing the loudest, but instead creating a balance. It teaches children that they don't have to shine all the time. Also, they learn to persevere because they have to keep on trying and perfecting their skills.
When the kids see their friends struggling, they help each other. For more skillful students, they build a sense of confidence when they help their friends. In my class, we have a "Bravo Card." The students never protest when their classmate gets it. They always cheer for each other, which is so great to see.
The violin is also an easy instrument to start on because you're only studying one clef and four notes from the very beginning and then we build from there. As we begin working on theory and foundations, being able to have that familiarity with the instrument helps them absorb what they are learning. The biggest challenge to playing a string instrument is staying in tune. I put stickers on all the violins so the students can see the note progression rather than having to listen for it at first. That listening skill is one of the most difficult and important things when learning music and starting on the violin helps.
What are your first impressions of Léman?
I love Léman so far. The school values the arts, which is amazing, and our Department Head, Lisa Nowicki, is incredibly supportive of our team. I appreciate her guidance as a first-year teacher here. I feel that it's a caring environment all around. The staff cares about the students, and you can tell it's not just a job to anyone. People put in extra time and effort because you can tell that they love their jobs.
My daughter is in kindergarten, so I see it as a parent too. She already feels so comfortable in her first year and she's already making friends. She was born with spina bifida, so she has trouble walking and has other physical limitations. Her teachers are always making sure she doesn't get left behind. I receive emails from all of her teachers, including her classroom teacher, her swim teacher, and her PE teacher saying, "if Grace needs any extra assistance, we are here to help." Before we even started, I got a call from her learning specialist asking, "what does she need?" That showed me from day one that this school puts students first. As a parent and a teacher, I feel so blessed to be in such a supportive working environment and to have my daughter in such a wonderful school where she's so well cared for.