News
Senior Spotlight: Carlos Marinho de Queiros, Babson College
June 04, 2021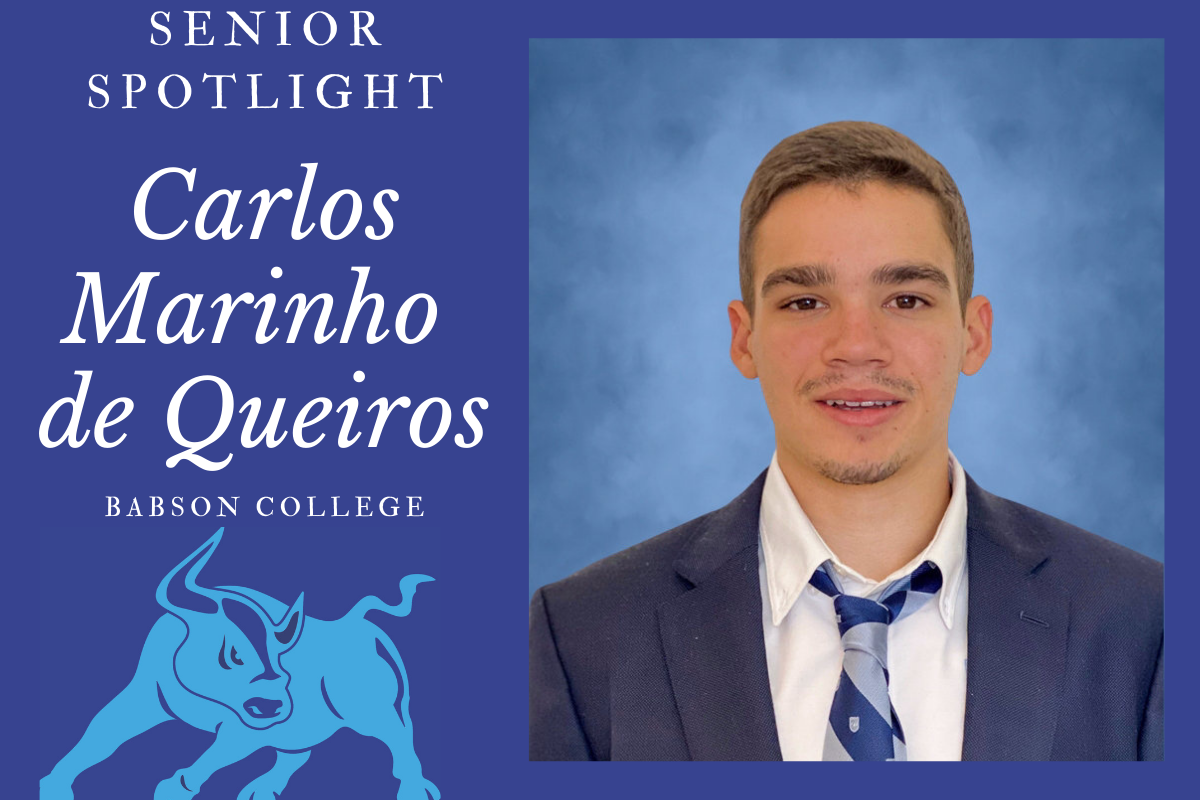 When he was looking for a new school, budding entrepreneur Carlos Marinho de Queiros knew he found exactly what he was looking for when he visited Léman.
Originally from Brazil, Carlos has lived all over the world, but he always knew that he wanted to live in New York City, "it was always my dream to come back and study in the US. When I was 16, I decided that was the time to do it," he said, "I originally went to another school in the Hamptons, but when I got there, I realized that the school wasn't very competitive. I wanted to show colleges that I wasn't just a good student, but I was competitive at an international level. I had a couple of friends who studied at Léman and they said I had to come here because the curriculum was great and it's very competitive. When I visited the school I could tell it was a perfect fit."
Carlos dove right into the IB Diploma Programme as soon as he arrived at Léman, "I didn't know anything about the IB before I arrived, and I was nervous about how I was going to accomplish everything, especially because I enrolled in 11th grade. The teachers here were so helpful. If you're willing to put in the hard work, they will support you no matter what," he said.
These skills will help Carlos succeed when he enrolls at Babson College, rated the #1 undergraduate entrepreneurship program by U.S. News and World Report. He said, "I chose Babson because I have a lot of examples in my life of people who have been entrepreneurs and been able to be successful and help others and I knew I wanted to go to college to develop those skills. I didn't see that in a lot of colleges until I discovered Babson, which is a college devoted to developing entrepreneurial skills. I wanted to get into a college that would give me that experience of living with other people who have the same mindset as I do and want to achieve similar things."
Although he is excited to enroll at Babson in the fall, he is already reflecting on his time at Léman fondly, "I love the diversity of the school. There's literally someone from every country you can imagine, which is really great because you get to know people from different cultures, which is fascinating. You might think that would make it difficult to make friends, but everyone is really inviting here."
When asked what advice he would give to a student enrolling in high school at Léman next fall, he said, "focus on your relationships with your teachers. Don't undermine them because they are really there for you to help you succeed. They really drive the school. Also, engage with the community. Take classes you're not comfortable with so you can meet new people and discover new things. Be open-minded because you will gain so much from those relationships."
Congratulations, Carlos! We know you'll be successful at Babson and beyond!